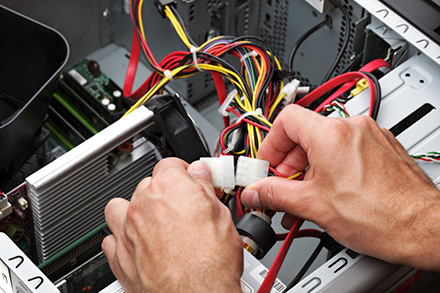 Geeks 2 You offers a wide variety of computer repair services and we are proud to service any brand or type of computer, including Apple.
Throughout our 10 years of service in Arizona, we have fixed well over 20,000 computers and solved over 50,000 computer and technology related problems. When it comes to delivering reliable software or hardware solutions, our experts know first-hand what yields the best results. We can save you time and money by providing the best solution. Give us a call today to get a free quote for any of our computer repair services.
Software Problems
Geeks 2 You can solve any software problem you may have on your home or work computer. If your Microsoft Office software or picture program isn't working, we can help. We also offer tutoring on a huge variety of software. If you've ever wondered how you can become more proficient with your computer, Geeks 2 You provides the solution with one-on-one help. We can also increase your productivity using your computer by speeding it up, and showing you all the tricks.
We have the experience needed to set your business up with the correct software to run most efficiently. We have experience in law firm software, database management, and all other database driven products. We not only will keep your software running, but also your employees working. Schedule an appointment with one of our skilled technicians to assist you with your software needs.
We specialize in all types of software repairs and installations that include but are not limited to:
• Operating System Errors
• Viruses and Popups
• Malware and Spyware
• Slow processes
• Slow internet
• Software installation
• Tutoring
• Backup Software
Hardware Problems
Geeks 2 You can assist with any hardware swap or upgrade needed to enhance the performance or functionality of your computer. We have built numerous custom-built servers, gaming computers, and reliable workstations. We use only the highest quality parts in our hardware swaps and computer builds. We take special pride in building the latest and greatest gaming rigs, capable of maxing out your fps and resolution. You will never have a better gaming experience than in one of our top of the line systems! We offer top-notch quality systems and can build something that will last.
If your computer constantly reboots, won't turn on, or is slow, our experts have the answers. Do you need a server for your business? Look no further. We can assist you in ordering one from Dell/HP, or we can custom build you one. We have experience in RAID systems to provide top notch backup solutions.
We specialize in all types of hardware repairs that include but are not limited to:
• Laptop LCD and screen replacements
• Hard Drive replacements
• Power Supply replacements
• RAM (Memory) upgrades
• Laptop DC jack replacements
• Keyboard replacements
• Video Card Installations
• Modem and Router installations
• Home Theater Setup